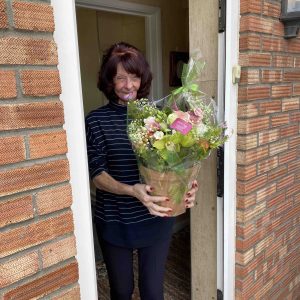 Elaine is one of our patients who I first met a few years ago – June 2005  !!!! She has been a stalwart supporter of faceup Cymru- always at our events and a passionate participant at our support group meetings.
She recently contacted us due to some problems she was having and we immediately got back to her with advice and support
29th April was her birthday so on behalf of us all at Faceup Cymru , we would like to say Penblwydd Hapus and I was able to see her – with social distancing and give her a bouquet from us all.
Take care and we will all catch up soon
Please remember we are always there for you  24 /7 so get in touch if needed
Face Cymru
All monies raised are solely and totally used for patient care and welfare