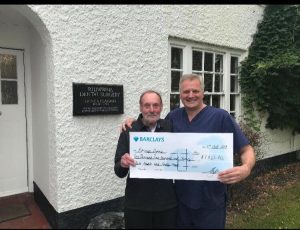 Thank you John Hawkins & Rhiwbina Dental for your long term support, we at Faceup Cymru would like to say a big thank you.
October marks 50 YEARS of a dental surgery in Rhiwbina.
We are so proud to be able to present this donation to John Hawkins, founder of the original dentist on Heol Y Deri. This phenomenal amount was raised at the Rhiwbina Summer Festival, with all proceeds going to Faceup Cymru. John works very closely with this wonderful charity as a survivor himself. Thank you John, for being such an inspiration and for passing on this wonderful practice and it's patients to Nick.